Klaudena is a new ergonomic seat cushion that adapts to the body and prevents pain when sitting for long periods of time.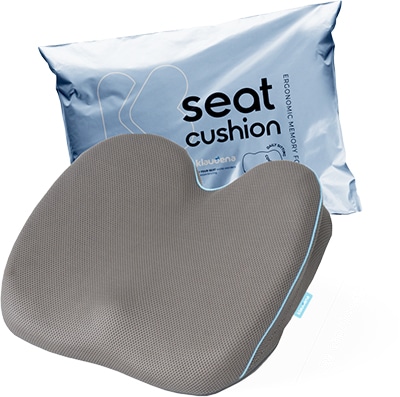 Even with an expensive desk chair, it is not always possible to work without pain. The Klaudena Memory Foam Seat Cushion is the solution. It adapts perfectly to the shape of the body, reduces pain and promotes blood circulation.
Even on hard and uncomfortable chairs, you can sit comfortably for hours without any problems.
Klaudena UK
Made from pure memory foam
Allows air to circulate, making it cool and breathable
Ergonomic shape – Keeps the spine straight
Lightweight and portable – Easy to take with you wherever you go
Safe anti-slip design. It always stays in place
Takes the pressure off and relieves pain
Buy Klaudena Seat Cashion UK
Why is Klaudena better than other seat cushions?
Klaudena is made from pure premium memory foam and naturally moulds to the shapes of your body for ergonomic sitting in any chair.
Whether you're sitting in a desk chair, office chair, car seat or on an aeroplane, any seat will instantly become comfortable and pain relieving.
Normal seat cushions only make you temporarily more comfortable, but they do not improve your posture.
Klaudena is designed for people who have to sit for long periods of time and provides the ergonomic support needed to prevent muscle pain.
Klaudena seat cushion reviews and customer experience
The product has been named a test winner in many test reports. Customer reviews are also consistently positive.
Dimensions
Klaudena dimensions:
Width: 45 cm
Length: 38 cm